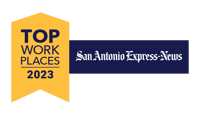 Surveys of the Top Workplace program are conducted by an independent third party called Energage. Energage and Express-News are separate entities.
Helpful Guide to the Top Workplaces Program:
San Antonio Express-News publishes a special section in October showcasing the top large, medium, and small businesses in San Antonio. We also celebrate specialty award winners as well as those businesses that have won national recognition.
San Antonio Express-News hosts a Top Workplace event and/or virtual event to celebrate San Antonio's top businesses.
San Antonio Express-News is the only company that will sell Top Workplace marketing sponsorships, event tickets, and trophies to participating winners.
Energage is the neutral third party that will work with you on surveying your employees and selecting the winners.
To activate your local Top Workplace program, you can meet with one of our Express-News/Hearst Recruitment media experts.
We can walk you and your brand through from nomination to Top Workplace winner and help you stand out as a preferred employer of choice in the San Antonio market.

We can also help you recruit from outside markets for specialized talent.
Reach out to us today.
We look forward to helping you with your nomination.