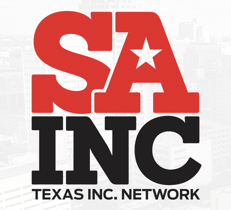 The most comprehensive, timely, and convenient source to become a Texas business insider. From breaking business news, and interviews with successful CEOs, to real-time coverage of day-to-day decision-making performance indicators, S.A. Inc. in print and online are a part of the C-Suite's strategic decision-making process.
S.A. INC. REACHES 345K BUSINESS READERS WEEKLY WITH OUR DIGITAL/PRINT PRODUCTS, INCLUDING THE NEW THESAINC.COM, AND THE NEW SUNDAY S.A. INC. BUSINESS PUBLICATION DISTRIBUTED EXCLUSIVELY IN THE SAN ANTONIO EXPRESS-NEWS.
COVERING TOPICS IN MULTIPLE INDUSTRIES SUCH AS:
BANKING | REAL ESTATE | BUSINESS SERVICES | ENERGY (OIL & GAS) | LEGAL SERVICES | + MORE
ALONG WITH SPECIAL FEATURES LIKE:
MOVERS & SHAKERS | BUSINESS SHOWCASE | ECONOMIC DASHBOARD | ENERGY INDEX FUND | TOP TEXAS COMPANIES DASHBOARD
---
ADVERTISE IN SA INC.
OUR GROWTH STRATEGY​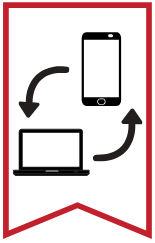 DIGITAL
- EXPRESSNEWS.COM
- mySA.COM
- BUSINESS NEWSLETTERS

SOCIAL
- FACEBOOK
- TWITTER
- LINKEDIN

PRINT
- SUNDAY PUBLICATION
-TABLOID SIZE
- SAEN BUSINESS EXTENSION
- TOP WORKPLACES

BONUS COPIES
- DISTRIBUTED AT KEY LOCATIONS AROUND THE CITY

AWARENESS
- WEEKLY E-EDITION FOR C-SUITE EXECUTIVES
THE AUDIENCE WE DELIVER
SAN ANTONIO'S SA INC. READERS
- CEO'S
- EXECUTIVES
- BUSINESS DECISION MAKERS
OWN INVESTMENTS (401K, IRA, MUTUAL FUNDS, STOCKS, etc.)
HAVE AN AVERAGE HOUSEHOLD INCOME OF $100K OR MORE
PLAN TO TAKE A FAMILY VACATION IN THE NEXT 12 MONTHS
USED PROFESSIONAL SERVICES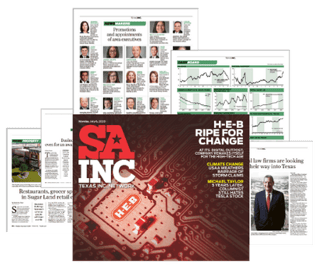 Request the SA Inc. Media Kit
- DEMOGRAPHICS
- AUDIENCE REACH
- ADVERTISING: DIGITAL, SOCIAL, & PRINT OPTIONS
- PRICING/PACKAGES
- DEADLINES
- CATEGORY SPONSORSHIPS
+ MORE!
SA INC. | NEWSLETTER
Sign up for behind-the-scenes Texas business news from the Express-News.
Contact us about SA Inc.!
Let us help you with your business advertising needs.