White Papers & Infographics


Interactive White Papers.

Interactive white papers take a core staple of traditional content marketing and transform it into user experiences that are significantly more engaging. They allow you to take the thought leadership and long-form pillar content from your white papers and combine it with interactivity. Prospects WANT content – especially white papers. Approximately 78% of buyers relied on white papers to make a purchasing decision within the past year.
Benefits

Prolonging the life of long-form-static content. Turn your white paper into a conversation by layering questions, calculations, links, and more into the copy.
Build in-depth profiles. Repurpose your existing white papers to understand where your prospects are in the buyer's' journey – and if they're a fit or not a fit for your product/service – based on their input.
Guide prospects to the next logical step by ask questions to guide them to the next part of their journey.

---
Interactive Infographics.
Infographics work because consumers like how a complex topic or information can be condensed into a visual asset that delivers the same or even greater value as a written piece of content. Interactive infographics take that one step further by adding an element of dialogue. An interactive infographic allows you to ask your audience relevant questions while they are processing the content, gathering valuable data about who they are and where they are in their buying process.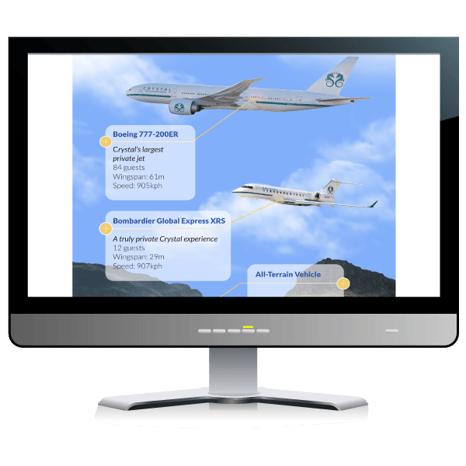 Benefits

Shape data points into meaning for readers through an asset rich experience.
Communicate information beyond the graphics by layering in questions to help them learn about - giving them a personalized outcome at the end.
Add lead capture to score, nurture, and segment new leads.
Increase social engagement through personalized visual outcomes encouraging share-ability.