Broadcast Your Message to the Largest Video Viewing Audiences
OTT & CTV
A more efficient, more effective solution than traditional TV Spots. Increase brand awareness by reaching your target audience with zero wasted impressions.
OTT: Over the Top
The content streamed through the internet onto a laptop, mobile device, tablet, or smart TV.
CTV: Connected TV
A device that's connected to the internet – it can stream OTT content through applications.
Combine the impact of TV with the precision of digital.
FULL-SERVICE VIDEO PRODUCTION
Harness our editorial expertise to craft your custom story into videos that can be distributed via display, pre-roll, OTT/TV, and social media campaigns.

A wide range of services for businesses large, medium, and small. Contact us about the different packages available.
94% of video marketers say video has helped increase user understanding of their product or service.
Source: WyzOwl

YOUTUBE ADVERTISING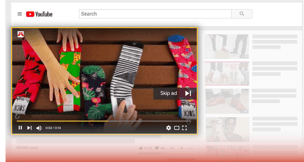 Connect with YouTube's massive audience using a highly targeted and pay-per-performance ad strategy.
REACH
Connect with consumers based on their video-watching habits and audience profile, including geography, age, gender, interests, and more.


ENGAGE


Only pay when consumers choose to watch at least 30 seconds of your video or clicks on your ad.


MEASURE
Get real-time insights about how people are responding to your video ads so you know where to make adjustments.