We'll assume your gym already has a user-friendly website, and you've created listings on Google My Business, Yelp, and Bing. You may also advertise on Facebook, Google, and Instagram. So, let's jump beyond the basics into 6 unique, creative ways to market your gym or fitness studio.
1.

Get Out of your Gym to Market it
Connect with the community where they are in "offline" ways. Offer classes in locations such as churches, parks, and the library. Yes, working out in the library seems odd, but some have separate meeting rooms that can host noisy activities. (Be sure to have the appropriate permits and insurance.)

Consider participating in local community fairs. Host a fun activity in your booth, such as giving out a free month's membership to anyone who does 15 push-ups or burpees.
2. Offer a Workout Buddy Matchup System
Researchers showed that finding a new exercise companion increased the amount people exercised. Offer your members a free service to help connect them to someone with a compatible workout schedule and similar goals. Setting up a list isn't complicated, with free tools like Google Forms.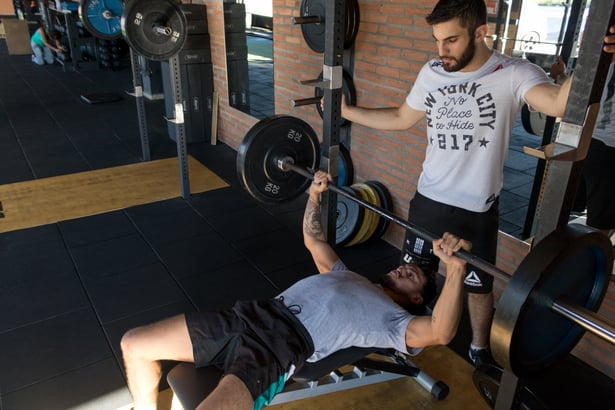 You can simply match members and pass along contact details to enable them to schedule their workouts, while also promoting small-group training services.
3. Make Use of Video in your Creative Ways to Market your Gym
90% of consumers say video can help them make buying decisions. Videos are also great for sharing on social media like Instagram, Tiktok, or Facebook. According to research by MarketingProfs, 71% of B2C (Business to Consumer) marketers say social media posts are the most effective type of content marketing. Record videos like:
Testimonial statements from members
3 yoga poses to relieve stress
Ways to use your cool new equipment
4 moves for HIIT
Promotions for special events at your gym (#4 below!)
Always ask permission before filming. Legally, you may have the right to film members for promotions if you've included it in your membership agreement. Ask anyway. It's the decent thing to do. Most people will say yes, and it's easy enough to keep others out of the frame.
4. Host Special Events Inside the Gym
Offer special events such as a team-taught Zumba-thon, Tour de France cycle event, "ball & chain" (cycling + stability ball), and partner yoga or boot camp. Ask your staff what they'd like to lead; they're likely to have many ideas.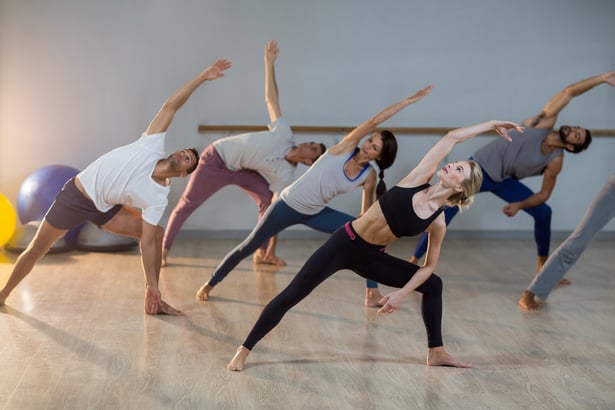 Offer free snacks, encourage members to invite friends, and make special events open to the public for free. Events like this can help you market your gym to new members while also increasing engagement with existing ones.

Hopefully, participants will try a new group workout and end up sticking with it! Group exercise is highly beneficial. Participants showed significant improvements in all three quality of life measures: mental, physical, and emotional, as well as a 26.2% reduction in perceived stress levels. And their gains outshined those exercising individually.
5. Jump on Other Promotions
The more places you can get your gym listed, the better. Not only can it drive website visitors, but those "inbound links" help your SEO (search rankings.) Look for ways to get listed, such as local community guides and consider cross-promotions with complementary brands, like nutrition coaches, healthy restaurants, and beauty salons. Cross-promotion can be as simple as adding links to "Local Businesses We Love" or having business cards available at the front desk.

Your fitness pros should list where they work on their profile with their certifying organizations. BODYPUMP™, "THE ORIGINAL BARBELL CLASS™," is among the many Les Mills programs, which are licensed in 100 countries by 17,500 partners worldwide. Zumba, the world's largest branded fitness program, has over 15 million weekly participants.

If you offer these programs, you definitely want to promote it and make sure people can find you on those sites. Word of caution: These companies have valuable brand recognition which they work to protect. Do NOT call your classes "BodyPump" or "Zumba" if you're not complying with the relevant requirements.
6. Get Active with Charity Work
Our final creative way to market your gym is by offering free services. Offer free group classes or personal training to teachers at your local schools and police and firefighters at the stations. Lead a warm-up for a charity run. Not only will you be helping out, you'll get your name out and build positive associations with your gym and staff.
While these creative ways to market your gym will be successful over time, it can also be time-consuming to execute a comprehensive marketing strategy. You can partner with an advertising agency like HearstMediaSA while you focus on the complexities of running your business.
Need help with marketing your gym or fitness studio?
Get the latest insights affecting the San Antonio fitness industry to keep you current in this competitive marketplace.
Editor's note: This post was originally published in November 2019 and has been updated for comprehensiveness.