As the holidays approach, marketers will begin to plan for their upcoming year's strategy. In its latest earnings call, Snapchat mentioned achieving a major milestone of having surpassed Twitter in the total amount of daily active users; 186 million versus 126 million. Although many had disregarded the platform after its disastrous IPO as a viable long-term marketing channel, it is currently worth re-evaluating the pertinence of including Snapchat into one's digital strategy.
Many business owners consider it as "its what the kids use" and think of it as having little value in producing an immediate return on marketing investment. This could not be further from the truth; Snapchat today should hold a strategic place in any SMB's communication strategy. Here are the main reasons why: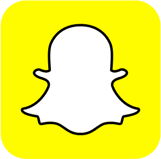 Snapchatters are a distinctive audience with very little presence on other platforms.
The core of Snapchat's users are a distinctive breed dedicating much of their time on the application and not much anywhere elsewhere. Although one might think the platform is simply used by tweens and teens, a breakdown of its statistics reveals a very different picture. Understanding who are the Snapchatters involves comparing their mobile behaviors to those of the average social media user. A Snapchat user in 2019 is becoming increasingly exclusive to the platform – with 38% that cannot be found on Facebook, 46% without an Instagram account, and a whopping 83% of them absent from Twitter. With the capability to reach over 75% of Americans aged between 13-34, it truly is an underrated platform when it comes to digital strategy. This capability to reach both millennials and generation Z should not be underestimated, especially by brands looking to speak directly to a niche within these age brackets.
Advertising costs on Snapchat are lower than other major social networks
A clear advantage Snapchat has over other forms of digital advertising is its lower CPM (cost per thousand) to place ads. Although the company has been improving its different advertising products, many marketers simply omit to consider any of them, making the competition for eyeballs less ferocious than – let's say – the Facebook mobile newsfeed. In a recent study by Social Media Examiner (2019), only 8% of marketers have reported using Snapchat. For those unfamiliar with digital advertising placements, they function as an auction system. In the case of Snapchat, one bids either on a geography (sponsored geo-filter & lenses) or demographics & behaviors (Snap Ads). The platform will show, on average, one advertisement for every 15 snaps & with an ever-engaged user base, Snapchat has a lot of space to show ads. Thus, being at the axiom of a general reluctance by marketers to fully embrace it and an increasingly engaged user base, the average cost to reach 1000 users on snapchat has been decreasing to 2.95$ in 2018. Comparing this number to Instagram's CPM of 4.20$ & Facebook's CPM of 5.12$, Snapchat ads appear to be a bargain and should definitely be part of any small business owner's advertising strategy as a way to decrease cost while maintaining a frequency level.
Its users expect raw, entertaining content.
The type of content Snapchatters expect from brands makes it easier and less costly to produce than what is required on Youtube & Instagram. Snapchat is made to feel raw; users want truthful footage that's "taken on the fly." For small businesses', content creation can be a costly headache. Having to contract a photographer/videographer to make footage of professional quality can be out of one's budget. Having the flexibility to make the type entertaining amateur-style content Snapchatters enjoy is a big relief. Examples of these include behind-the-scenes for fashion brands, aesthetic procedures for beauty parlors & how-tos for mechanics. The goal is for brands is to tell a story through their snaps, to make their audiences feel apart of their teams. The more "real" this story feels, the better responses from the audience – all this with very minimal effort & cost compared to the other video sharing platforms.
Small business owners should reconsider, including Snapchat, in their digital marketing strategy for 2020. Combining an increasing number of users with a low cost of advertising and content production makes it an ideal social network to take part in for those with limited time and budget.
References:
https://mediakix.com/blog/snapchat-statistics-2016-marketers-need-to-know/
https://assets.ctfassets.net/inb32lme5009/27edQB34n5kbcvAiZw8b79/74d412309835f3e870f975bd5d4ef00c/Snapchat_Audience_Exclusivity.pdf
https://adespresso.com/blog/ultimate-guide-marketing-snapchat/
https://www.smallbizgenius.net/by-the-numbers/social-media-marketing-statistics/