Looking to get in on the action this football season? Sponsor the UPickEm Football Contest and reach enthusiastic sports and football fans. Our football fans are wealthy, engaged, and love trying new products - making them the perfect target for your brand.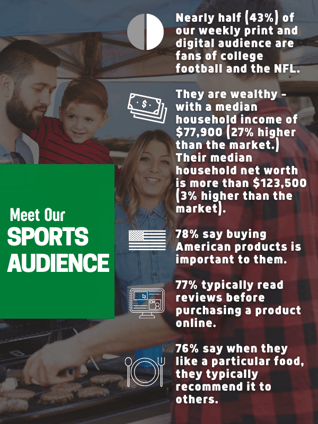 Here's what you need to know about our audience and how sponsoring the UPick'Em Football Contest can benefit your business:
Wealthy – with household income 27% higher than the market overall
Trying new foods – they're always looking for the next great food experience. When they like a particular food, they're likely to recommend it to others.
Buying American products – 78% say buying new American products is important to them.
Nearly 3 out of 4 seek value and are willing to pay more for a quality product.
77% typically read reviews before purchasing a product online.
Score a Touchdown with Your Marketing Strategy
The UPickEm Football Contest is the perfect way to reach engaged sports fans and promote your brand. Starting August 25, you'll have a chance to make your picks of 10 college and NFL matchups each week and see how you stack up against other fans and our Express-News sportswriters.
Winners take home weekly prizes along with bragging rights. The reader with the best record at the end of the season will win an ultimate tailgate prize package.
How it Works:
Fans can sign up for free at expressnews.com/upickem.
Fans make their picks for 10 College and NFL matchups each week.
The Express-News sportswriters will also make their picks and fans can see how they stack up.
Prizes will be awarded to the top weekly scorers as well as the contestant with the best record at the end of the season.
Benefits of Sponsoring the UPick'Em Football Contest:
Your brand will receive more than $1 Million in promotional advertising featured across websites, in print, and social media platforms.
Customers will see your brand throughout the contest as they make their picks and compete to win prizes.
Opportunity to advertise at a significant discount (75% off regular rates)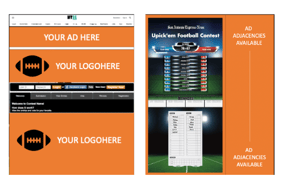 Get In on the Action and Align with our Hugely Popular Content
13.7 Million Pageviews across Sports digital content during Football Season last year
5.0 Million Unique Visitors on MySA and EN.com monthly
654K Average Readers in Print each week
To learn more about sponsorship opportunities for the UPick'Em Football Contest, speak to your account executive or go here to fill out a request form. We also have discounted frequency and a la carte pricing available.
What are you waiting for?
Sources: Google Analytics, Scarborough Research, R2 2021, San Antonio DMA.