Do Not Miss the Chance to Nominate for the 2022 Your SA — San Antonio's Official Choice Awards
Good, better, best? Who will reign Supreme in San Antonio in 2022? Only a select number of businesses in the San Antonio area are the cream of the crop, rise to the top and stand out among all the rest.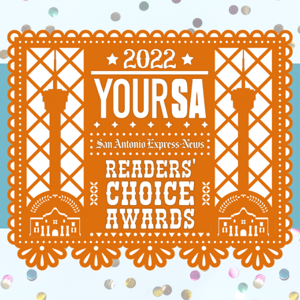 Annually, the San Antonio Express-News and MYSA.com have honored local restaurants with their Readers' Choice Awards. This year, following the success of 2021, they continue the program to open up to more categories and expand on what San Antonio favorites could be deemed the choice for San Antonians.
The nomination round has begun and is well on its way to being a year of great competition. You cannot vote or win without nominating first! Voting on the top five in each category will begin on February 1, 2022. You can find more information at mysa.com/yoursa.
The nominated businesses aren't the only ones who have a chance to win. Voters, too, are eligible to win a prize. Those who vote in more than 25 categories will be entered in a sweepstakes to win $500.
Once the voting concludes on February 28 and the votes have been tallied and verified, the Express-News will contact the winning businesses and then recognize them in a special print and online section that publishes March 27, 2022.
Purchase a promotional package and boost your presence to make sure your company's supporters nominate you in the categories you want to own!
Packages are only available for a limited time.
ACT NOW before the nomination period closes.