The Alamo City High School Sports Awards will feature Coach Jeff Traylor, Sean Elliott and Claudia Zapata-Elliott. Help us to celebrate the exceptional athletes from the 2021-22 school year by participating in our special section highlighting the event.

The Express-News, PM Group and Texas A&M University-San Antonio will host the inaugural Alamo City High School Sports Awards on Wednesday, June 1, 2022, at Morgan's Wonderland Camp. Registration will open at 5 p.m. and the program starts at 6:30 p.m.


Selected athletes will enjoy FREE tickets to the awards event. Prior to June 1, the Express-News will send communications through area athletic directors. The awards ceremony will recognize exceptional athletes and their teams from more than 80 high schools throughout the San Antonio area. The evening will feature keynote speaker UTSA coach Jeff Traylor and former Spurs All-Star Sean Elliott and Claudia Zapata-Elliott will emcee the event.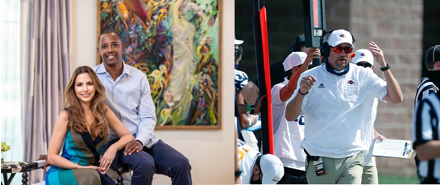 The Alamo City High School Sports Awards is the culmination of the nine-month high school sports season covered by the Express-News sports department. During that time the Express-News recognizes incredible local high school students through its Athletes of the Week awards, All-Area teams and the Dan Cook Cup – given annually to the year's top high school athletic program.
Traditionally, the Express-News editorial team had announced its Athletes of the Year throughout the sports season. This will be the first year where the Express-News awards its Athletes of the Year at our in-person celebratory event. The event honors the true spirit of sport by highlighting the exceptional athletes and teamwork that grows community.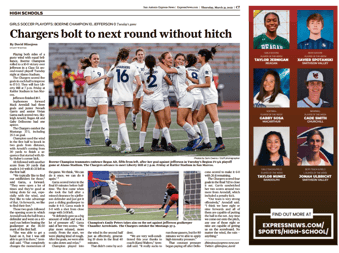 The Express-News sports department makes their Athletes of the Week and All-Area selections based on statistics, performance and input from coaches and athletic directors. The Express-News Area all-sports award is named in honor of Dan Cook, the late sportswriter and columnist for the newspaper from 1952-2003. He also served as the sports anchor for KENS-TV from 1956-2000.

Be a part of the commemorative keepsake edition
Businesses can align with the community by placing a print ad in our San Antonio Express-News special section that will publish on Sunday, June 19, 2022. Reach parents, kids, and school leaders by showcasing your brand along with the award winners and congratulatory rich stories that have made up the 9-month high school sports season. Sponsorship opportunities are also available.


For advertising inquiries, fill out the form here.