The 2nd Annual Alamo City High School Sports Awards is set to take place on June 7, 2023, and promises to be even bigger and better than last year's event. This event is an opportunity to honor and recognize the San Antonio area's top high school athletes and the top high school athletic program. It's a wonderful celebration of the hard work, dedication, and talent of these young athletes, who have excelled in their respective sports.
A Night to Remember
Presented by The PM Group and Six Flags Fiesta Texas, the event will take place at Six Flags with an anticipated 1,000 attendees this year. This is a significant increase from last year's sold-out event, which speaks to the intensity and love for high school sports here in the Alamo City. The event will surely be a night to remember, with special guests such as UTSA Coach Jeff Traylor, UTSA Alum and Minnesota Vikings' Defensive End/Linebacker Marcus Davenport, and UTSA Quarterback Frank Harris.
Coach Jeff Traylor, the reigning Conference USA coach of the year, has been an instrumental part of the UTSA Roadrunners' success since 2019, leading them to a Conference USA championship for a second consecutive season last year. Marcus Davenport, an Alamo City native and UTSA alum, has gone on to achieve great success in the NFL after becoming a 1st round draft pick in 2018. And Frank Harris, UTSA's star quarterback quoted as "the greatest player in UTSA history" by ESPN, holds 34 school records and is the reigning 2022 C-USA Most Valuable Player.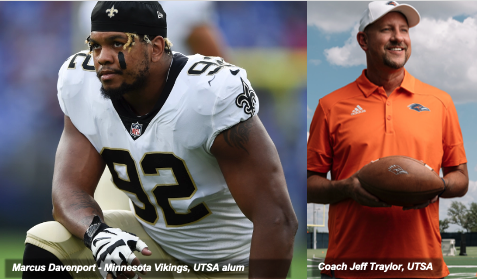 Extensive Media Coverage for Your Business
The Alamo City High School Sports Awards is a high-profile event that will receive extensive coverage in experiential, print and digital media, offering great exposure for sponsoring businesses and advertisers. After the event, the Express-News will follow up with a special section in the paper and e-edition on Sunday, June 25. We have sponsorship and advertising packages available, with a variety of options to fit any investment level. Our team will work with you to find the best fit for your brand and ensure that you receive maximum exposure and engagement.

Athletes in consideration, along with one family member, are invited to attend the event for free. This is a great opportunity for athletes to celebrate their hard work and accomplishments alongside their loved ones. We encourage businesses to get involved and show their support for these young athletes.
How Your Business Can Get Involved
In conclusion, the 2nd Annual Alamo City High School Sports Awards is a significant event for San Antonio, and the festivities provide a way to recognize and honor these young athletes who have worked so hard to achieve greatness on the fields, courts, and lanes over the past year. Help us celebrate their moments of triumph on stage. With special guests, fantastic exposure, and a range of opportunities available, this is an excellent chance for businesses of any size to connect with a diverse audience and showcase your brand and support the community. We encourage everyone to get involved.
Contact us today to learn more!